Learn more about C.Marie's signature flavors and pricing


 *Italian Cream
(contains coconut & walnut)
* adds .50 a serving for package cake options

Need an event cake? C.Marie's features custom buttercream cakes 'YOUR WAY'

All cakes 'YOUR WAY' are buttercream frosted and include fondant accents and edible images. Any of our custom cake flavors are included. Send us a picture of what you have in mind and we will be happy to customize your cake to fit your budget and style!
Custom cake designs are welcomed and will be priced according to design materials and decorating time. Fondant toppers and figures, Metallics, sugar flowers, and fondant covered cakes are additional.
6 inch (Serves 12-15) – $85
8 inch (Serves 20-25) – $100
10 inch (Serves 30-40) – $135
12 inch (Serves 50-60) – $250

All 2-tier cakes start at $200 and serve 35 people at a minimum.
Buttercream starts at $6 per slice and fondant starts at $7.5 for a simple design, any fondant characters, logos, elaborate fondant work, sugar flowers, or any other labor-intensive design are priced specifically to the client's order.
A credit card is required to place a custom cake order.
Please give us a week's notice for your order, but if time gets away, do not hesitate to call us- we will do our best to make cake magic happen!
$5.50 each buttercream rosette
(muffin-sized)
Frosted Sugar

$8 – $10 each (with bag + bow)

Chocolate Chip Oatmeal

$42/dozen

White Chocolate Walnut

$42/dozen
Dessert Bars are $6/person with a 100 person minimum
(100 guests) Choose 1 dessert option out of the three categories
(150 guests) Choose 2 dessert options out of the three categories
(200 + guests) Choose 3 dessert options out of the three categories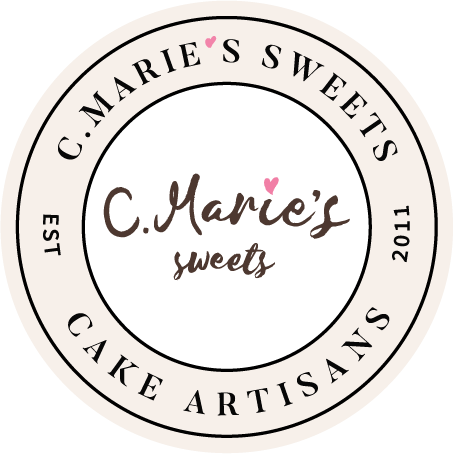 © C.Marie's Sweets LLC, 2022